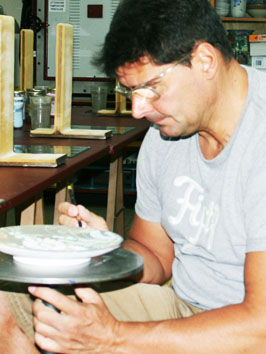 Curriculum.

Tiziano Donzelli was born in Switzerland.
He received his High School Diploma in arts subjects from " Istituto F. Mengaroni" in Pesaro in 1983, in the field "Ceramic Art" and began working as an artist.
He initially favoured old-fashioned decorations and shapes, which have abounded in his homeland from the time of Federico da Montefeltro.
Vases, plates and amphorae in different shapes with decorations, were part of his initial production. His artistic production ranges from antique majolica to the modern, and also develops various decorative techniques and genres, portraits and decorations on large personalised surfaces, floral motifs, always maintaining the specific nature and unique characteristics of his handmade items.
He has participated in and organised many successful and well received collective and one-man exhibitions.
His decorative art can be found in many Italian and foreign homes.
He currently works and holds courses in the decoration of ceramics, oil painting and drawing at his studio in Pesaro in via Toscanini n.5.